YOU SHOULD SEE A GAME AT THE NEW YANKEE STADIUM
I suggest you stop at an ATM first.
Single game tickets $12-$2,500. All kinds of insane seat prices in between. The place has six seating levels. If youíre in the top section, bring some serious binoculars or a portable tv or both. The Yankees donít put names on the back of the uniforms, but if youíre in the upper sections, you wouldnít be able to see the names anyway.
Other minor expenses:
Hot dog $7.50. Soda $6.50. Beer $8.75. Scorecard $7.00. Water $5.00.
T-Shirt $25.00. All this after you stash your car in a stadium garage for $25.
Not a problem. A family of four can enjoy the game and should be able to get by for no more than $4,000.
So, itís ok to go to beautiful new Yankee Stadium for a game IF:
Youíre damn wealthy OR your doctor tells you that you have one week to live. And if he tells you that you have one week to live, best you get a second opinion first.

THE NEW NFL OVERTIME PLAYOFF RULE IS A MISTAKE
Roger Goodell is the NFL boss. He proved it when he got what he wanted from the owners in the way of the recently-enacted modified sudden death rule that goes into effect this season. Overtime in the post-season has been reformed, and absolutely not for the better.
Goodell feels that the current overtime rules were not equitable for the playoffs. In the first 19 years of overtime, the team winning the coin toss went on to win almost 47% of the time. In the last 16 years, that number rose to almost 60%. The coin-flip winner had an unfair advantage because of the increased efficiency of field goal kickers. So enter the new rule.
In overtime post-season games in 2010, both teams will get a possession on offense unless there is a touchdown or a safety on the very first series after the coin toss. This is a succinct thumbnail of it. On the surface, I think the rule stinks. Why? Because I donít understand it as it is written. I can think of many variables to the rule, one being a change of possession on the same play for starters, and I do mean starters.
The playoffs should be a Broadway show with no flaws. Not this year. Coaches wonít have a chance to get used to the rule during the season, when the stakes arenít quite as high, so Goodell is asking them to experiment with all of the marbles on the line. The game that put the NFL on the map, the 1958 title game between the Colts and the Giants, was sudden death. The system has worked quite well ever since. Not everything in life has to be improved, especially when the ďperceived improvementsĒ detract from something that was fine to begin with.
Furthermore, Iím betting the NFL referees are going to have lots of problems and inconsistencies in the ruleís interpretation, and the gray areas will certainly impact the outcome of the games. And keep in mind that these are playoff games that can ill-afford a gray area mistake by a ref on the field that will spell a teamís victory or defeat. Also, if the refs do have interpretation problems on given plays, then how in the world will the media, broadcasters and fans fully understand it? They wonít!
It should be noted that Goodell received a 28-4 vote by the owners on this new playoff overtime rule. It should also be noted that a clear majority of coaches and general managers oppose it, some vehemently. Now the coaches had best reinvent the strategy wheel in these games, as if they didnít have enough on their minds. Iím clearly with the Vikings, Bills, Bengals and Ravens, those teams being the four dissenting votes, and it is my prediction, although we may never know it to be fact as that small fraternity will keep it zipped, that by the time the 2010 season formally ends, there will be owners who will wish they had voted thumbs down.
Do the Vegas sports books care about the new playoff rule? No! Be assured that theyíll have all the strategies of the new rule figured out perfectly, well before the first 2010 playoff game. They could be the only ones who do.
DONíT COUNT THE MIAMI HEAT IN JUST YET
Miami now has a dynamic trio of stars in LeBron James, Dwyane Wade and Chris Bosh. However, that trio hasnít won zip yet. The Lakers' supposedly unbeatable trio of Wilt Chamberlain, Jerry West and Elgin Baylor played three seasons together without winning a championship. By 1972, when the Lakers finally won, Baylor had retired.
To remind Jeff Van Gundy, championships are not won on paper or in the media. See below for his ridiculous quotes of August 9th. If he truly believes it, ok, but he should really keep his big mouth shut!
By South Florida Sun-Sentinel
Story posted 2010.08.09 at 12:33 AM EDT
Jeff Van Gundy: Heat Will Be Dominant, Record-Setting.

Finally, an NBA voice that says the obvious about the Miami Heat: They can break every historical record out there. They'll dominate in a way few teams had the ability to do. Jeff Van Gundy tells The Miami Herald as much in one of those obvious-but-noteworthy quotes.
"They will break the single-season win record [of 72],'' Van Gundy said. ``And I think they have a legit shot at the Lakers' 33-game [winning] streak [in 1971-72], as well. And only the Lakers have even a remote shot at beating them in a playoff series. They will never lose two games in a row this year.
He continued: ``They have put together a much better roster than anybody could ever have expected. There is now no good way to defend them. They are unguardable. They are indefensible. They are just too good and have added so much shooting and are so versatile that they will score at will.
``And with Erik Spoelstra coaching, they will be in the top three defensive teams in the league, as well. The other 29 teams better hope the lockout gets moved up a year.''
THE GREATEST WORLD SERIES CATCH EVER
It happened again yesterday. It happens frequently. I have to listen to an unknowing baseball fan at my poker table stating the Willie Maysí catch on Vic Wertz in the 1954 World Series is the greatest Series catch ever. No it wasnít. It was a tremendous catch, but it meant virtually nothing to the outcome of that Series as the Giants swept the Indians in four straight. The fact that the great Willie Mays made that catch has made it folklore down through all these years. Had Irv Lippel made that catch, youíd have never heard about it again. Actually, if you want fact, CF Jim Edmonds has made the greatest outfield catches Iíve ever seen.
However, the greatest World Series catch ever was made by Sandy Amoros, who dashed across the Yankee Stadium outfield in Game 7 of the 1955 World Series and caught a piece of baseball immortality when he turned a deep Yankee drive into a spectacular Series-saving double play for the Brooklyn Dodgers.
There were many heroes in the Dodgers' victory over the Yankees in 1955, but it was Amoros, an otherwise obscure Cuban-born outfielder with a .255 career batting average, who nailed down Brooklyn's lone World Series championship with a single play that has unreeled across the minds of Brooklyn fans ever since.
It happened in the bottom of the sixth inning in Game 7 at Yankee Stadium on Oct. 4, 1955, as the Dodgers, who had come back from a 2-0 deficit to tie the Series at three games each, tried once again to win their first ever World Series.
With the Dodgers clinging to a 2-0 lead, Amoros was sent in to play left field. Then, with runners on first and second and no outs, Yankee catcher Yogi Berra sliced a drive down the left-field line that seemed destined to score the tying runs, especially since Amoros had played the pull-hitting Berra toward left-center field.
But the speedy Amoros streaked across the outfield, and the left-handed fielder snagged the ball on the run, his right arm fully extended, as he flirted with the low grandstand fence. (See photo below.) Then he whipped the ball to shortstop Pee Wee Reese, who relayed it to Gil Hodges doubling Gil McDougald off first. That catch preserved the shutout pitching performance of Johnny Podres as Brooklyn won the Series. And for all his outfield heroics in Game 7, real Brooklyn Dodgers fans and sports historians will recall that it was Amoros' two-run homer that put the Dodgers ahead for good in Game 5 of that 1955 Series.
<![if !vml]>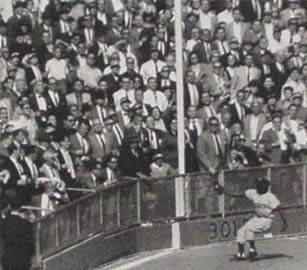 <![endif]>
So if you want to talk about the great Willie Mays, fine, but please donít tell me he made the greatest catch in World Series history.
PS: Look at the photo. Look at how formally attired the fans were for a baseball game 55 years ago. Youíd think they were going to Madison Square Garden for a Sinatra performance.
CAN THE SAINTS REPEAT?
Yes, but recent history says no. Of the 11 previous Super Bowl winners, five failed to even qualify for the playoffs the following year, and three lost their first playoff game. The Saints have to defy these historical facts in order to repeat.
MADISON SQUARE GARDEN HAS A PROBLEM
The problem is James Dolan, who serves as Chairman of Cablevision Systems Corporation and Chairman of Madison Square Garden, Inc.
In 1999, Dolan was given an increased role in managing Cablevision's sports properties and is now the primary manager of these assets. The teams under his domain include most notably the National Basketball Association's New York Knicks, the National Hockey League's New York Rangers, the Women's National Basketball Association's New York Liberty, and the American Hockey League's Hartford Wolfpack.
If youíre a Rangers fan, you know how general manager Glen Sather has hurt this storied NHL franchise with questionable and expensive free agent signings. Sather is still there despite fan and media calls to ice him.
The Knicks were run into and under the court by former general manager Isiah Thomas; they have yet to recover from his tenure. Thomasí stay also included a 2007 sexual harassment lawsuit submitted by a former team executive; she collected $11.6 million in the settlement.
And now for the impossible in this tale of improbable. James Dolan wants to bring the inept Thomas back as a ďspecial consultant,Ē as if he didnít do enough damage when he was there. (Record of 151-259 during his five years.)
This will require the NBAís blessing as Thomas is now employed as head coach of Florida International University, and plans to stay at F.I.U. even if the Knicks deal goes through. This move by the Knicks may be in violation of NBA rules (re: contact with amateurs) due to Thomasí F.I.U. position. It is under consideration by the NBA.
And what is F.I.U. thinking? Iím sure theyíre excited to hear about this. In his first year coaching F.I.U., Thomas led the team to a dismal 7-25 record, going 4-14 in the Sun Belt conference. If Thomas couldnít cut it with just one responsibility, how will he be able to successfully do two jobs at the same time? The answer to my question is rather obvious.
Glen Sather and Isiah Thomas deserve strong criticism as decision-makers with the Rangers and Knicks respectively. But the buck stops at the top. It is James Dolan who is directly responsible for those two franchises being so screwed up!