THE NEW ORLEANS SAINTS
"I think the Saints are very fortunate to be in there," said Jay Kornegay, executive director of the race and sports book at the Las Vegas Hilton. "To get five turnovers against Minnesota at home and having to go to overtime to win it, I don't think they were playing that well."

Jay Kornegay is absolutely correct. Thatís the bad news. THE GOOD NEWS IS THE SAINTS ARE GOING TO THE SUPER BOWL.
No sports team has ever meant more to a city than the Saints have meant to New Orleans and the surrounding geography during the time since Katrina. I was in New Orleans for a game in December. My friends there took me on a tour, and I saw first-hand the devastation that still lingers in the outlying areas of the city. The people have a common cause in the Saints. The entire Saints organization, both on and off the field, have been literal saints to the community in the truest fashion. In my soon-to-be 71 years of life, I never before was party to the purpose and hope and love by a community as demonstrated by the Saintsí fans in the Crescent City for their team. A Saints victory in the Super Bowl this Sunday would be an incredible gift to their fans for all the adversity theyíve been through as a result of Katrina. I hope it happens for their sakes. To be sure, they deserve it.
The Saints are going to the Super Bowl for the first time ever. Thatís one day after my birthday, and I can think of no greater present than a Saints victory in Miami. If that happens, the Mardi Gras will pale by comparison to the party the Big Easy will toss after that game. The only scenario that would be better would be a Saints Super Bowl win in the Superdome. New Orleans has hosted nine Super Bowls. Unfortunately, theyíre not going to host this one.
At this writing, the Saints are a 6-point underdog to the Colts. Thatís nothing! The Jets were 18-point dogs to the then-Baltimore Colts in Super Bowl III, and won 16-7. Thatís what Iím gonna hang onto in hope all week prior to the kickoff.
ADOLPHUS BUSCH IV RIPS McGWIRE, LaRUSSA, FEHR & SELIG
My thanks to Adolphus Busch IV for joining me in my crusade to preserve and protect the legitimate records of Henry Aaron, career home run king, Roger Maris, single season home run king, and all the great baseball players who accomplished what they did without the fraudulent use of performance-enhancing drugs.
The St. Louis Cardinals baseball club was owned by Anheuser-Busch from February 20, 1953 until the club was sold to a group of private investors on March 21, 1996. Adolphus Busch IV, part of the family that founded Anheuser-Busch, is not pleased with Mark McGwire or the Cardinals for welcoming McGwire back as a hitting coach following the bionic manís steroids admission. In a statement released Friday, January 22, Busch doesn't hold anything back as he criticizes McGwire, the timing of the steroids admission, calls Tony LaRussa dishonest, and puts Fehr and Selig on the carpet.
BUSCHíS STATEMENT:
"The highly orchestrated apology by and on behalf of Mark McGwire has reached a point that tests one's tolerance. I suspect I am not alone in my disappointment at McGwire's recent "clarification" on his use of illegal steroids.
But, has no one noticed? McGwire is not apologizing for his deceit, only for the embarrassment that came from his admission of having previously lied. The timing of his announcement at the start of a new baseball season has allowed him to hide behind the frenzy of a new Cardinal season and the blinding faith of Cardinal loyalists.
Mark McGwire chose to take performance-enhancing drugs 9 of his 18 years in professional baseball. He was paid millions while perpetrating a fraud. So how is it MLB Commissioner Bud Selig gives him a pass and welcomes McGwire back to the very game he betrayed?
Christine Brennan of USA Today was accurate in describing Mark McGwire as professional baseball's infamous "Good Cheater." What can we now expect from Major League Baseball for Barry Bonds, Alex Rodriguez, Roger Clemens and Sammy Sosa?
Bottom-line...Mark McGwire made a "personal" decision to use illegal drugs. He deliberately cheated the game and stole its most coveted records along the way. He stonewalled Congress. He even lied to the Cardinal fans and the media by his now infamous quote of February 2005, "Once and for all, I did not take steroids or any other illegal substances"
.
McGwire has chosen to come out of the closet at the perfect time -- Alongside a manager who also refuses to be honest, to the fans or to the game itself. After all, why would Tony La Russa hire a hitting coach whose lifetime batting average was only .263?
Bill McClellan of the St. Louis Post-Dispatch probably stated it best in his recent assessment of McGwire's remarks. "I took steroids for my health, never to enhance my performance," stated McGwire. But according to McClellan, "That's like apologizing for eating vegetables."
McClellan further points to McGwire's playing himself as the "victim." He even wishes there had been drug testing when he started playing. Maybe someone would have stopped him. Huh? "Isn't' that sort of like Bernie Madoff lamenting the lack of government regulation to justify his swindling investors," points out McClellan.
Will the time ever arrive when professional baseball recognizes the severity of McGwire's actions? When will Bud Selig realize that former Players' Association president, Donald Fehr, manipulated him and baseball by keeping drug monitoring off the table during years of negotiations? Fehr and Selig made a mockery of their responsibilities to protect the integrity of the game."
Adolphus A. Busch, IV.
St. Louis, MO.
IF IíM BERT BLYLEVEN, TO HELL WITH THE HALL OF FAME
This isnít the first time Iíve written on this subject. The injustice to Bert Blyleven continues. He barely missed being voted in this year, but the fact remains that he again missed. This great pitcher, this dominating pitcher, the best pitcher not in the Hall of Fame, was again recently denied entry. After a 22-year career that ended in 1992, he became eligible five years later. It is an absolute travesty that Blyleven hasnít received the call. Why is it an injustice? You be the judge.
In all-time MLB history, Blyleven ranks #26 in wins, #13 in innings pitched, #9 in shutouts, #8 in games started, #5 in strikeouts. He has one no-hitter to his credit. His strikeouts:walks ratio is almost 3:1. During his 22 MLB seasons, he compiled an ERA of 3.31. The latter is all the more compelling when you consider the fact that 16 of his seasons were spent pitching to designated hitters in the American League rather than to light-hitting pitchers in the National League. (Blyleven broke into the majors in 1970 with Minnesota of the AL. That league did not adopt the designated hitter rule until 1973. So his first three seasons plus three years later with Pittsburgh of the NL were the only years he did not have to face designated hitters.)
Iíve poked holes in the logic of all of the major halls of fame in various articles for years on my website. But the fact that Bert Blyleven has been overlooked for Cooperstown all these years absolutely jumps right off the page. If itís any consolation to Blyleven, heís in the hall of fame that counts, namely mine.
________________________________________________________
WHO DAT SAY DEY CAN BEAT DEM SAINTS?

<![if !vml]>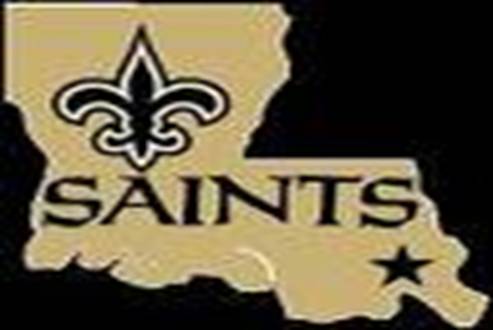 <![endif]>